Welcome to Winter!
Snowmobiling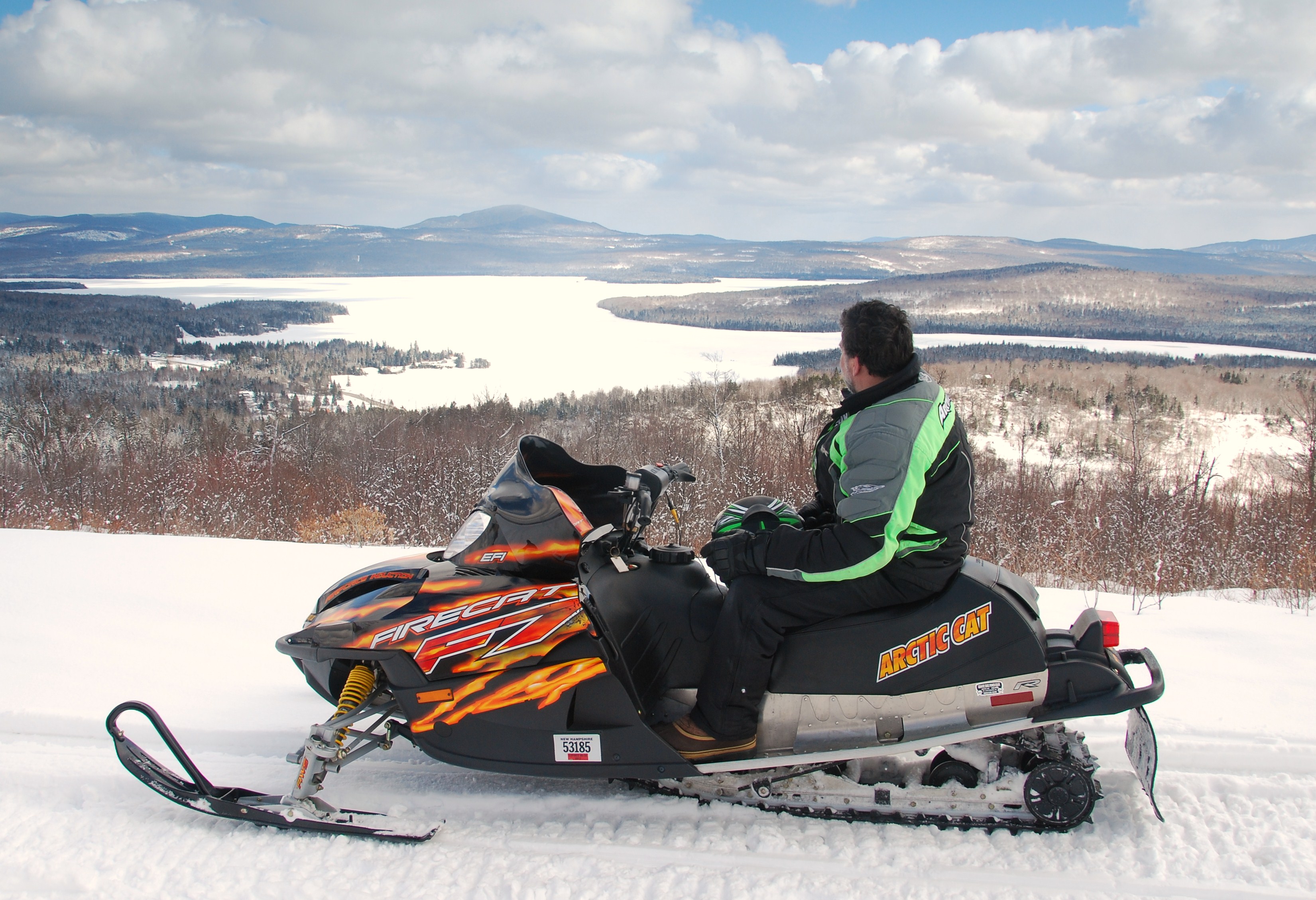 Pittsburg from Mt. Prospect by Robert Kozlow
North of the Notches is a snowmobile paradise with trails groomed in the Northern White Mountains and Great North Woods by the New Hampshire Snowmobile Association. NHSA is an association of independently incorporated snowmobile clubs, working together as a unified voice to speak for the sport of snowmobiling and to promote it as safe family recreation. The clubs groom the trail corridor network in NH and connect with lodging facilities.
See Snowmobile Club Trail Information
Jericho Mountain State Park provides opportunities for miles of trail riding with a number of scenic outlooks, for properly equipped OHRV, and snowmobile enthusiasts alike.
Alpine Skiing & Snowboarding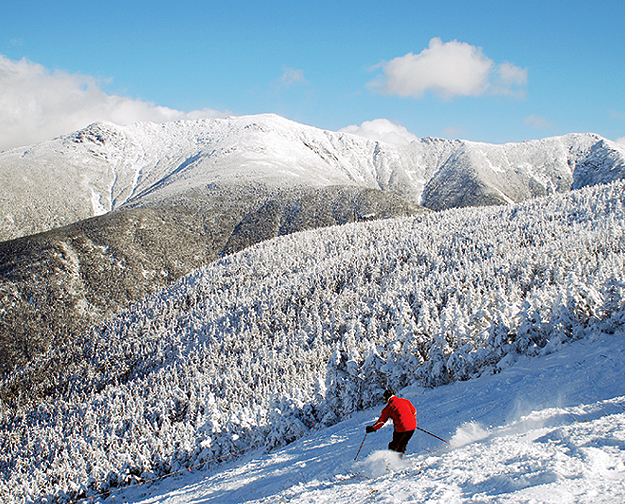 Cannon Mountain Skier by Robert Kozlow
Bretton Woods Mountain Resort - Skiing, Snowboarding, Canopy Tours, Sleigh Rides & Skating 99 Ski Area Road, Bretton Woods, NH 03575 (603) 278 - 3320 brettonwoods.com
Cannon Mountain - Skiing, Snowboarding, - 260 Tramway Drive, Franconia, NH 03580 Snow Phone 603-823-7771 www.cannonmt.com
Wildcat Mountain - Skiing, Snowboarding, 542 Route 16, Pinkham Notch, Gorham, NH 03581 888-754-9453 www.skiwildcat.com
Nordic & Backcountry Skiing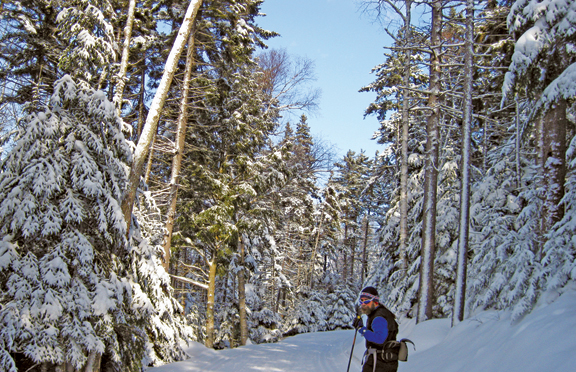 Nordic Skiing on Dragon Corridor at Great Glen Trails by Deborah Ryan
North of the Notches in NH you will find opportunities for all types of Nordic Skiing. We have listed the groomed trail networks, which also offer events and racing.
See Nordic Ski Centers
There are endless miles of backcountry trail to explore on skis and plenty of mountains for telemarkers. One of the annual rites of spring is skiing and an Inferno Race Event in Tuckerman Ravine on the east side of Mt. Washington. Friends of Tuckerman
Dog Sledding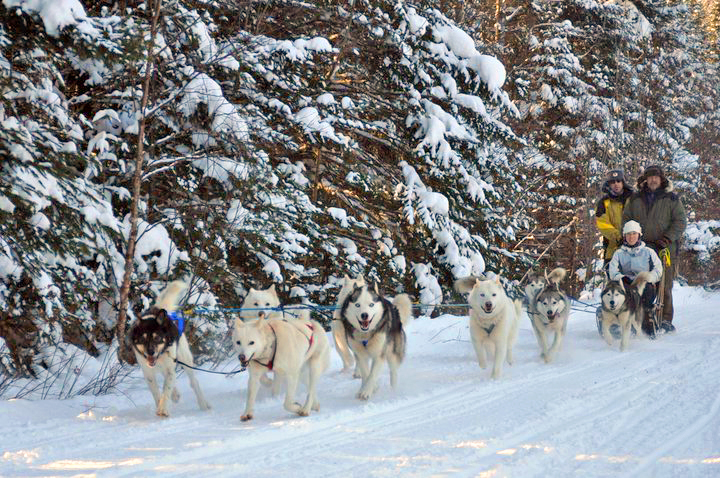 Dog-sledding courtesy of Muddy Paws Sled Dog Kennel) is great family fun!
Muddy Paws Sled Dog Kennel - 32 Valley Rd, Jefferson, NH 03583 - Office Main St., Gorham. NH (603) 545-4533 dogslednh.com
Ice Fishing
Ice fishing in most New Hampshire lakes and ponds begins at "ice-in" and ends at "ice-out." Depending on the weather and ice safety, this season can be from late December through mid-April. NH Fish and Game
Tradition Making
Whatever your favorite winter activity is, you will want to come back year after year and make it a family tradition. In addition to outdoor sports, you can pick your own Christmas tree at The Rocks Tree Farm in Bethlehem and go for a horsedrawn wagon ride. In Bretton Woods you can go for a sleigh ride or canopy tour. Many of the ski centers have fat biking and tubing. Cannon Mountain has a tram that takes you up above spectacular Franconia Notch! These are only a few of ths family friendly things to do north of the notches in NH.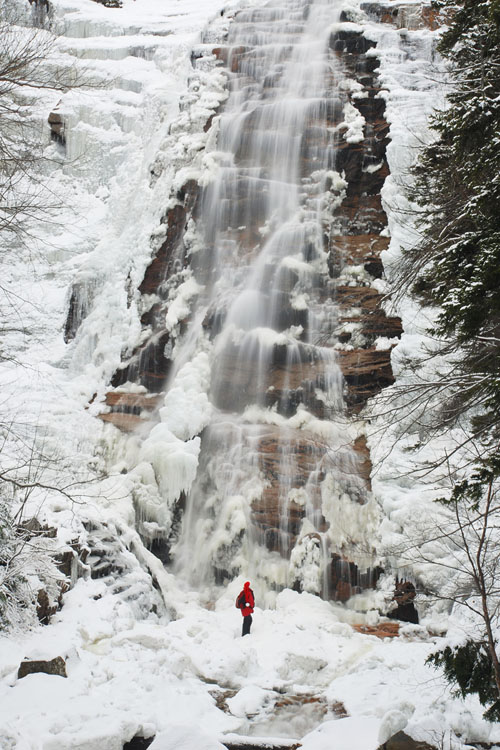 Waterfalls are totally transformed in winter and are worth hiking in on snowshoes to view. The is one of the highest in NH; Arethusa Falls from a trail in Crawford Notch by Robert Kozlow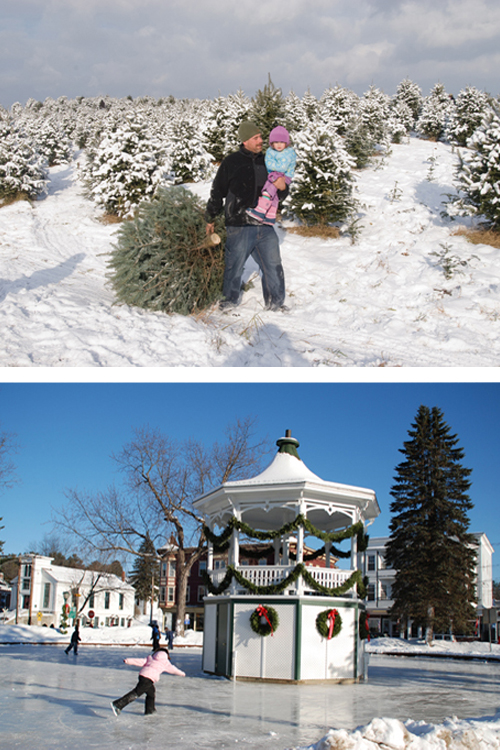 <top photo> The Rocks Christmas Tree Farm courtesy of The Rocks Estate in Bethlehem and Ice Skating on the town common in Whitefield, NH photo by Robert Kozlow